View this post on Instagram
Lets Drift is a niche adventure company that enables adventurers to explore local scenes and try activities at a very affordable subscription. Their main client attraction is the adventure calendar where drifters can pick a trip, and they sell personalised merch.
The Problem to Solve
How can we automate activity RSVPs and payments to reduce delays, discrepancies and hassle for customers?
The primary challenge for Lets Drift's customers was that they couldn't get the information and help they needed fast enough to book an activity and pay to attend the event. Being a community of over 1000 Instagram followers and more on other social media platforms, this presented an immediate conversion problem for Lets Drift at a large scale.
Research
Thorough research was conducted to understand user pain points and operational bottlenecks. This included user interviews, data analysis, and a review of existing processes.
What are the challenges that Lets Drift's operations, recon and finance teams are facing?
The primary challenge for Lets Drift was to streamline and automate the process of activity RSVPs and payments to minimize delays, discrepancies, and operational costs. The specific problems identified were:
Limited Visibility of Activities: Followers found it challenging to keep track of the month's activities on social media, leading to missed conversion opportunities for the company. The calendar was shared as a PDF, which had worked well until this point.
Activity Ticket Reservations: There was no real-time visibility on activity sign-ups, resulting in oversubscription beyond the attendee limit and subsequent cancellations with refunds.
Payment Syncing Issues: Lets Drift faced difficulties in synchronizing recurring and one-time activity payments done through mobile money (Mpesa in Kenya), leading to manual verification and reconciliation challenges.
Subscriptions Streamlining: customers were frequently unaware of when their monthly subscription ended since there was no automated system to keep track of it, leading to frustrating conversations with staff on which activities they could attend.
These issues collectively hindered the growth of new Drifters, strained operational efficiency, and limited the company's ability to explore long-term growth opportunities.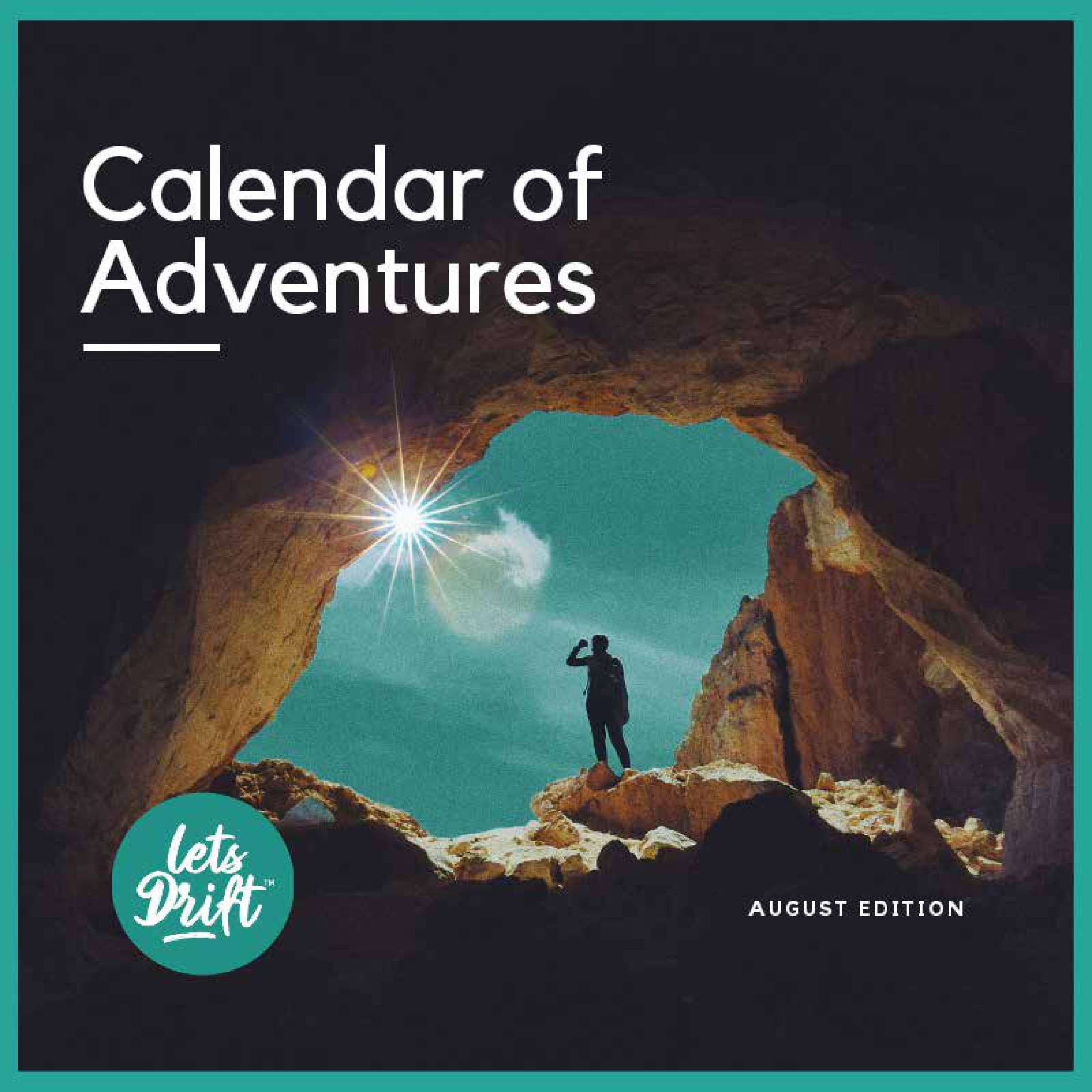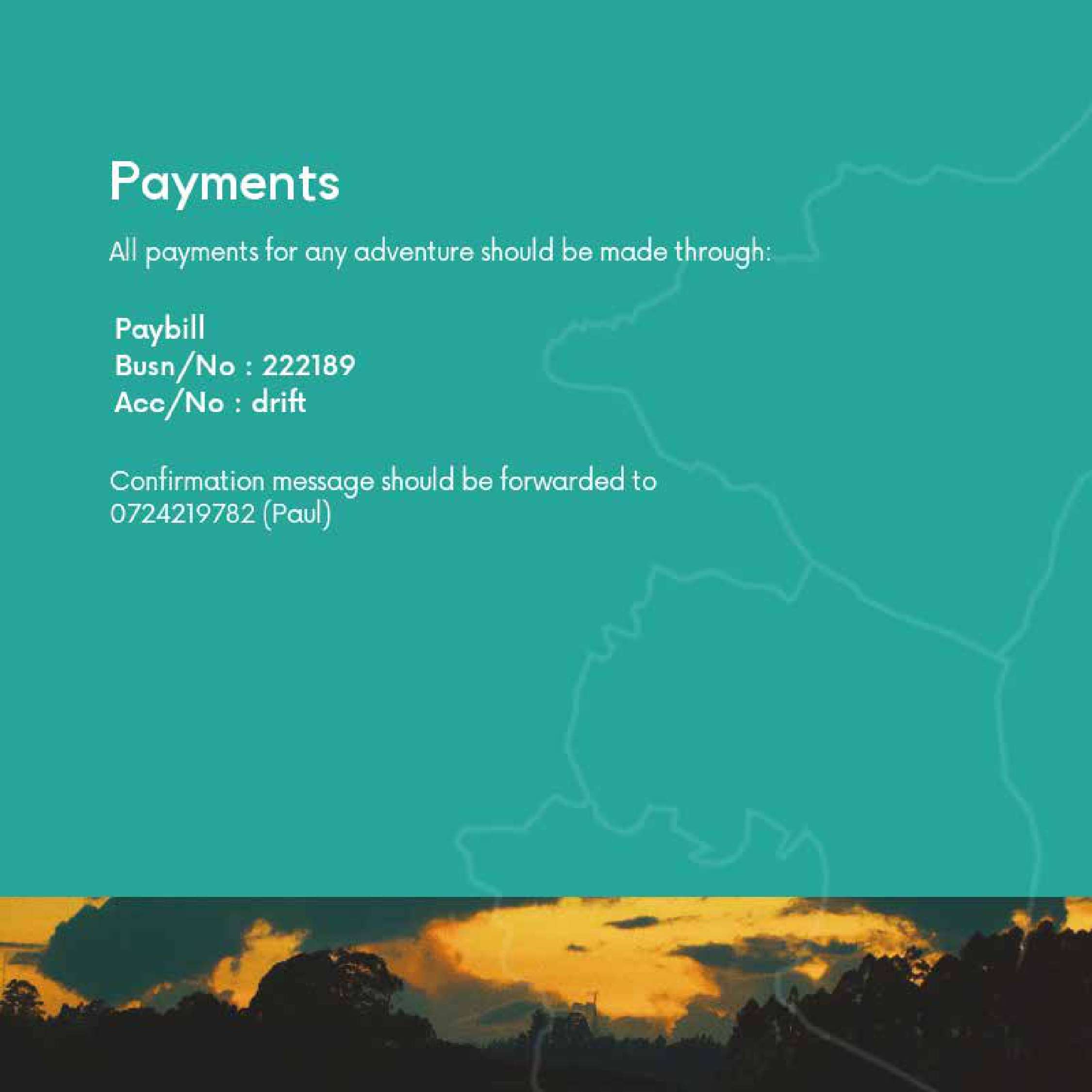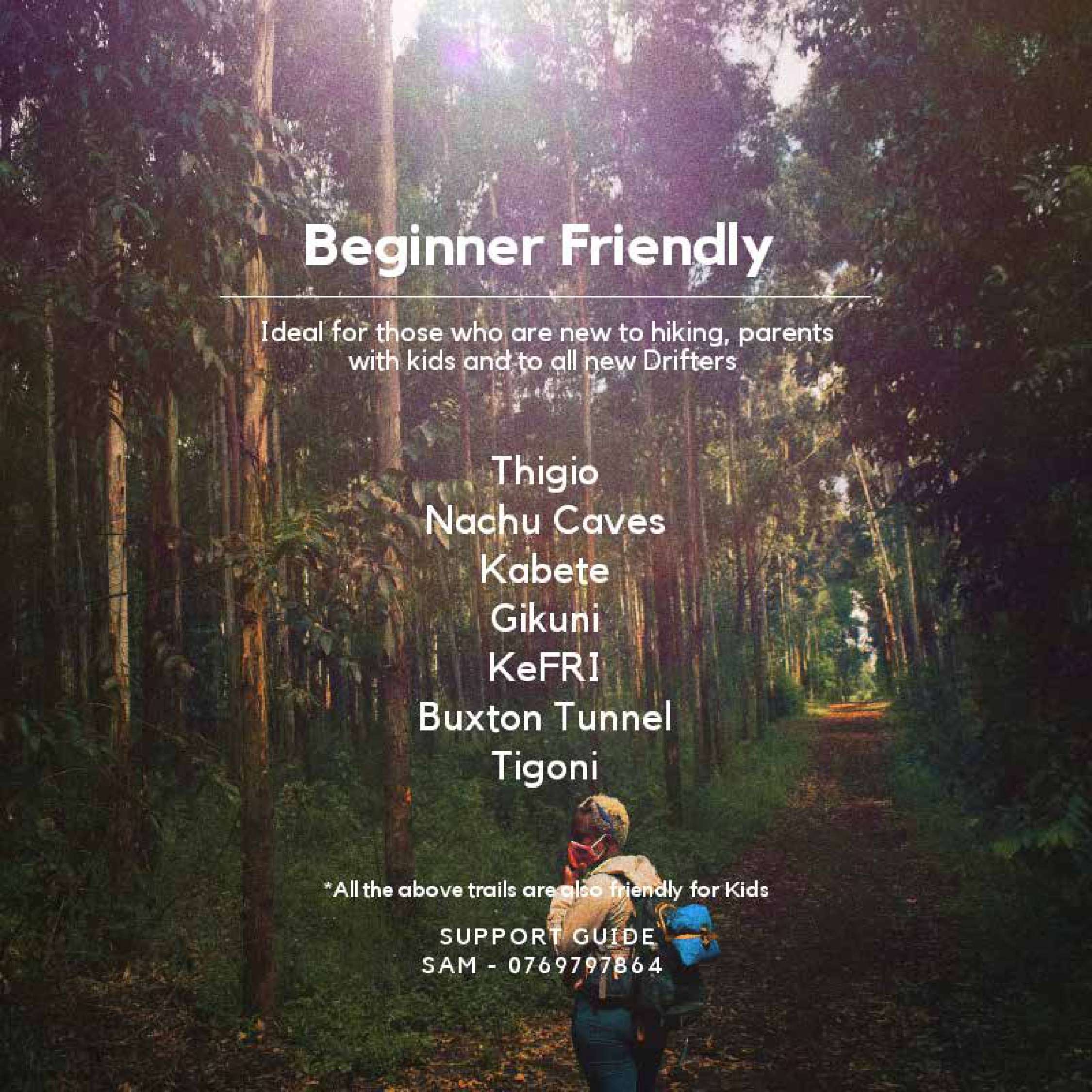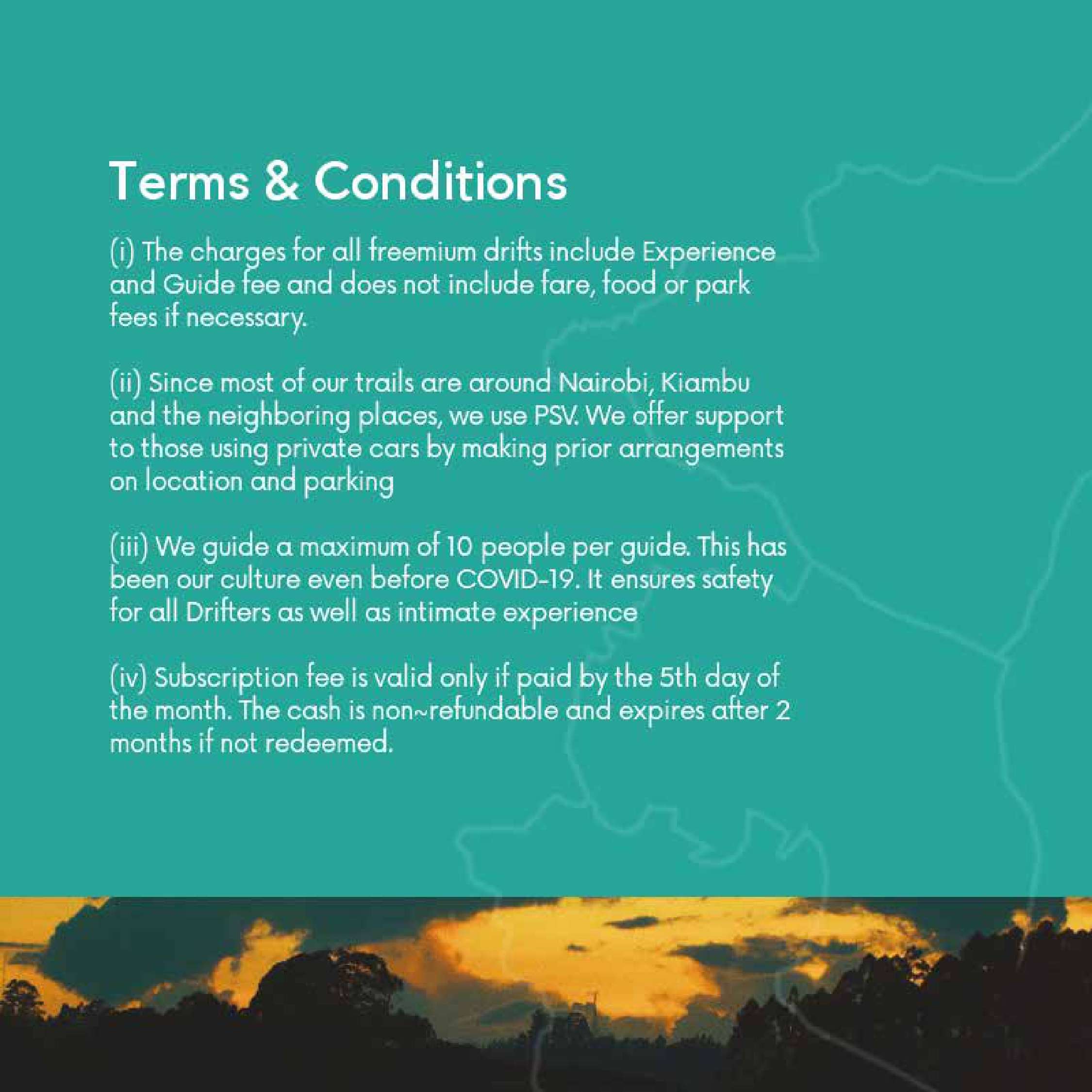 A sample from a monthly calendar PDF shared to social media followers via Google Drive:

Solution Exploration
The Solution: Building an Online Monthly Calendar + RSVPs with Automatic Payment Matching
The proposed solution involved the development of an online monthly calendar with limited RSVPs and an integrated payment syncing system. This would provide Drifters with real-time information on available activities, automate RSVPs, and synchronize payments seamlessly.
Key Responsibities
User Flow Generation
As the lead designer, I spearheaded the creation of user flows using sketching and FigJam. Feedback from stakeholders, including the Head of Community, Operations Manager and Lead guide was crucial in refining the flow.
Design Layouts
Upon approval of the user flows, high-fidelity designs of the entire web experience were rapidly created on Figma. Given the time-sensitive nature of the project, feedback was collected using Figma's comment feature. Specific design goals included:
Enable Lets Drift to:

Centralise their activity calendar via a link shareable to everyone on social media and offline
Create activities that could be available to subscribers and one-time Drifters
Showcase purchaseable merchandise and activity add-ons e.g granola pack for a trip

For Drifters (Lets Drift customers):

View activities based on the activity type, difficulty level, location, subscription eligibility, and price
Save a spot on an activity & pay for it
Keep track of their subscriptions
View recommended vendors of gear and items needed for a trip such as a hike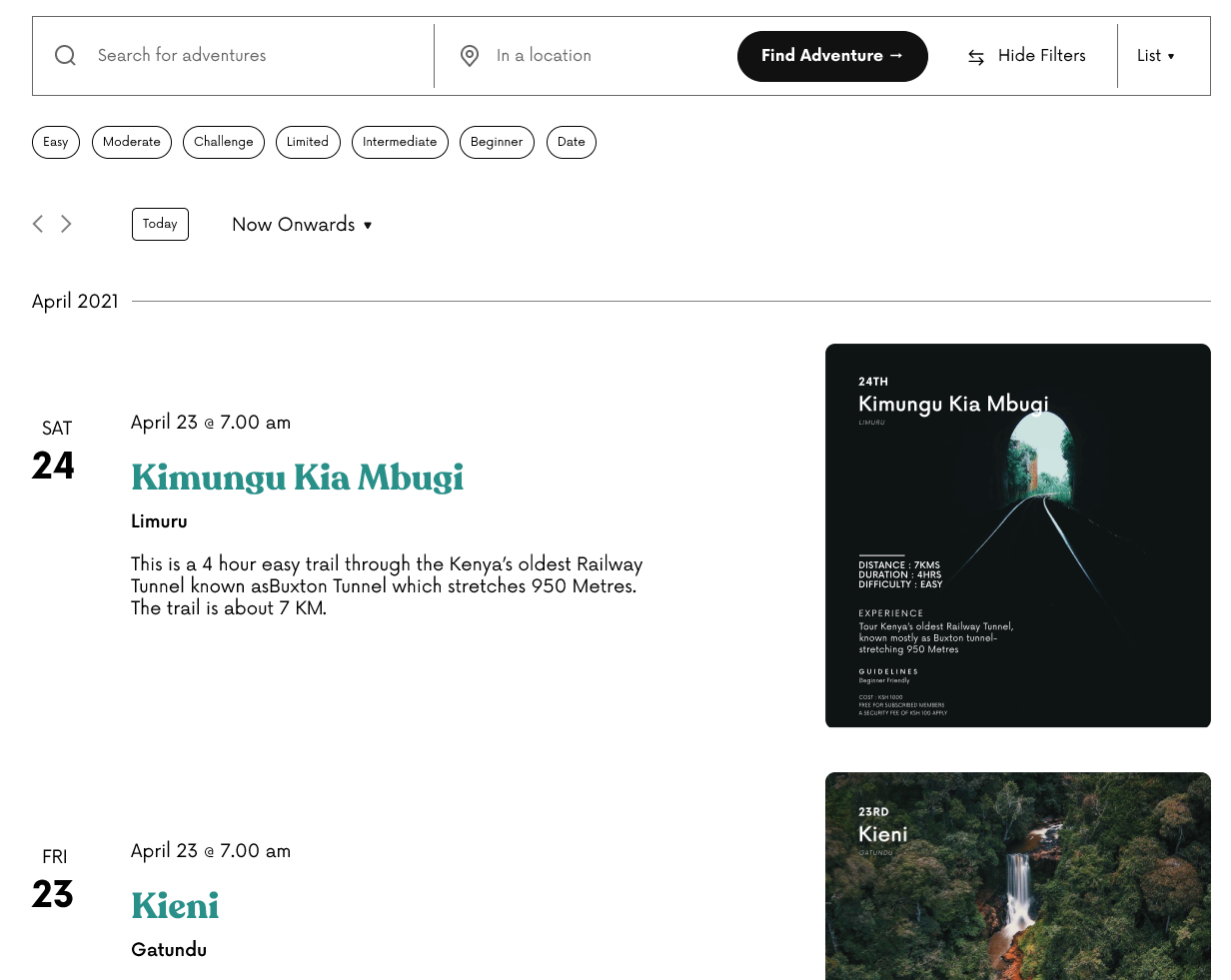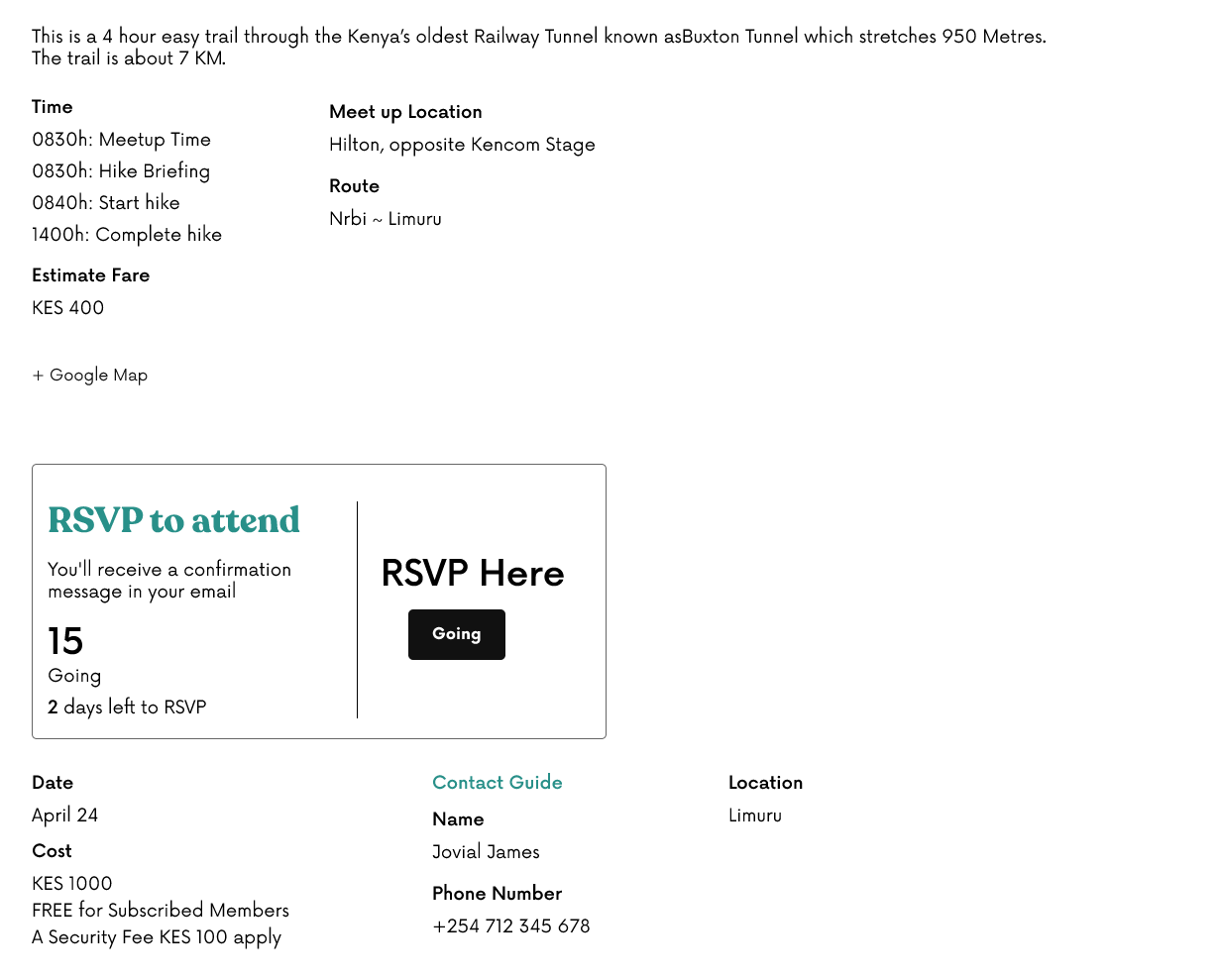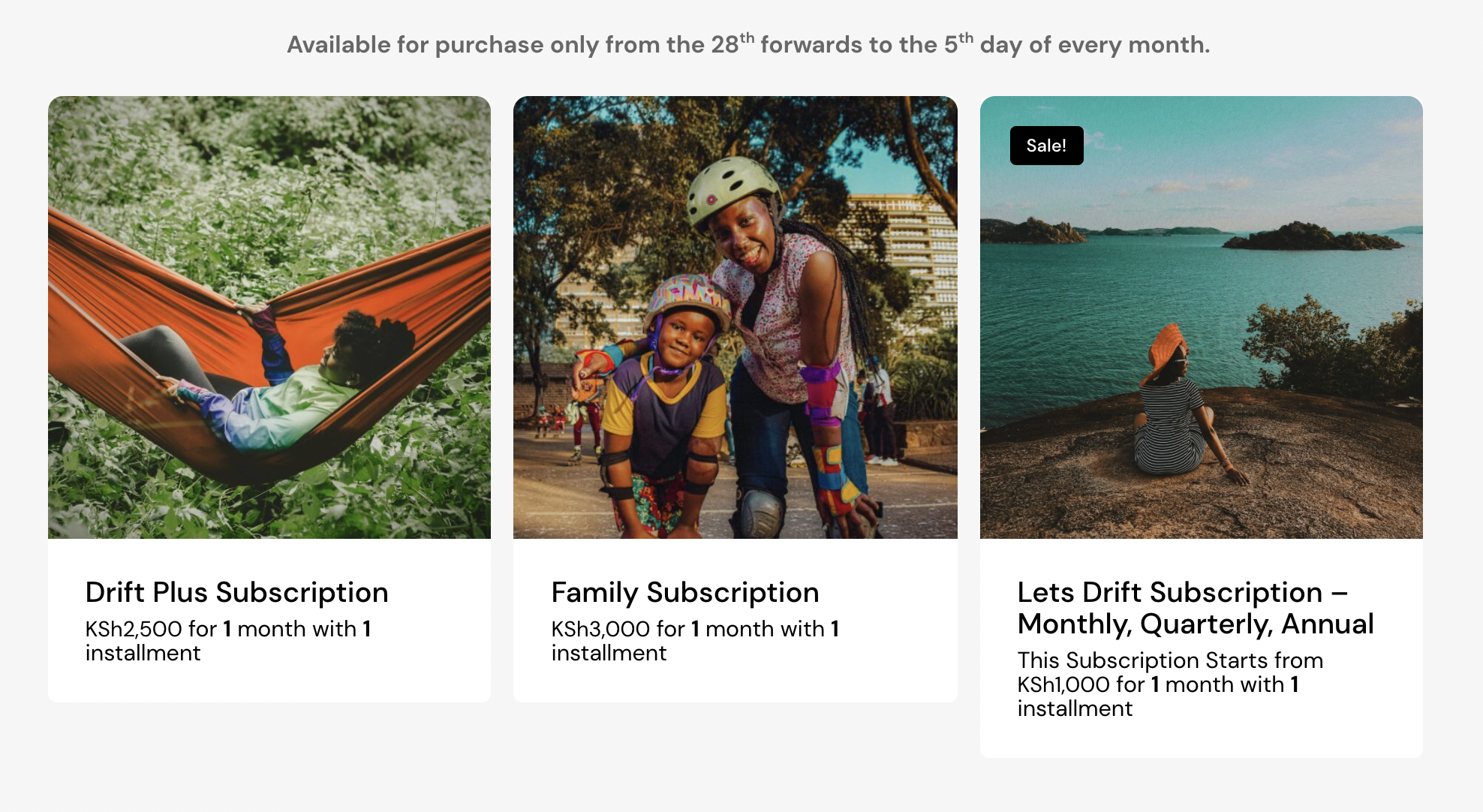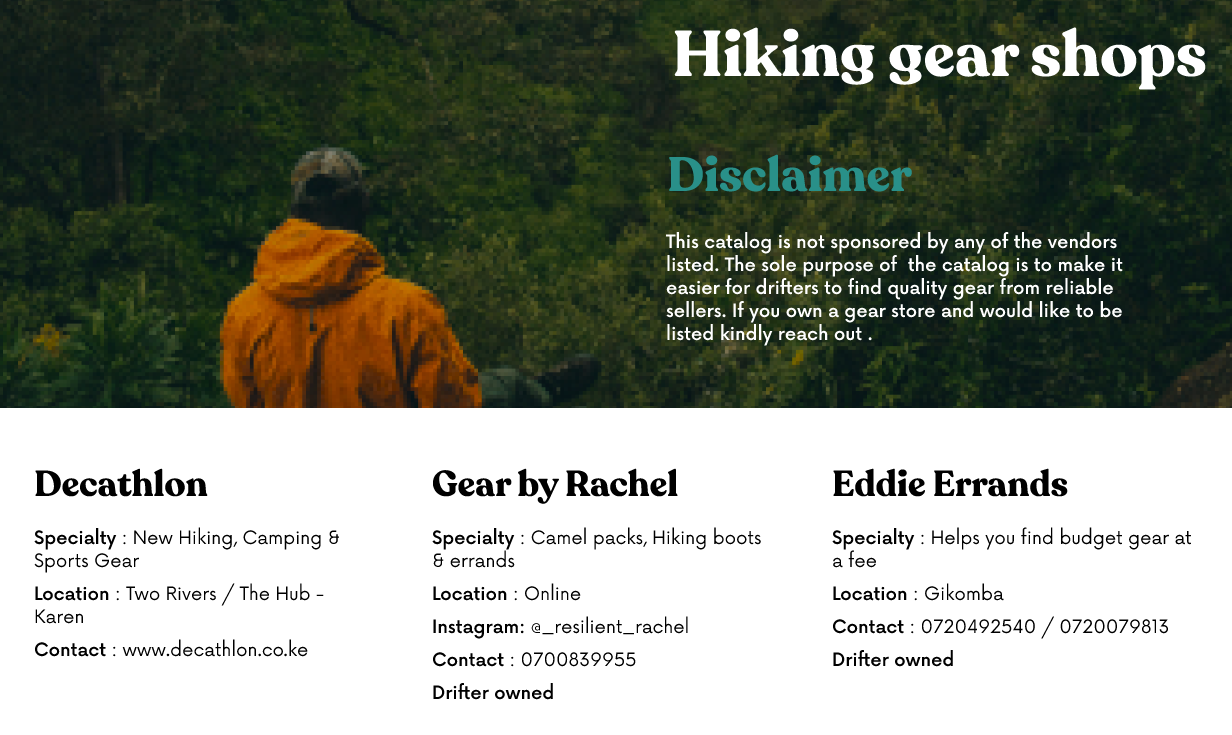 Solution Components
Adventure Calendar — Unveiling Monthly Excitement
The heart of Let's Drift lies in its adventure calendars. We designed an intuitive and interactive calendar system that showcases a curated list of activities per month. From hiking trails to culinary escapades, users can effortlessly browse and plan their next adventure. The emphasis here was on creating a user-friendly interface that sparks excitement and curiosity.
Adventure Ratings and Difficulty Levels — Tailoring Experiences
To cater to adventurers with varying experience levels, we introduced a comprehensive adventure rating and difficulty system. Drifters can filter activities based on their preferred challenge level, providing a tailored experience for beginners and seasoned explorers alike.
Merchandise Store — Wear Your Wanderlust
To diversify revenue streams, we incorporated a sleek merchandise store. The design revolves around showcasing adventure-inspired merchandise, making it an enticing side journey for users. From comfortable tees to durable backpacks, the store complements the adventurous spirit of Let's Drift.
Adventure Blog — Stories from the Drifters
To amplify the storytelling aspect, we introduced an adventure blog. Drifters, including staff and subscribers, share personal anecdotes, travel tips, and reflections on their experiences. The blog not only adds a human touch but also serves as a valuable resource for those seeking inspiration.
Partnership Collaborations — Expanding the Drift Network
Let's Drift is not just a platform; it's a network of partnerships. We designed a dedicated space to highlight collaborations with local businesses, adventure gear brands, and influencers. This not only supports the platform's ethos of community but also opens doors for exciting cross-promotional opportunities.
Adaptive Mobile Experience — Drift on the Go
Recognizing the on-the-go nature of adventurers, we prioritized an adaptive mobile experience. The Let's Drift platform seamlessly transitions from desktop to mobile, ensuring that users can plan, share, and explore their next adventure anytime, anywhere.
Email Newsletter — Stay Drift-Informed
To keep the adventure alive between expeditions, we set up a vibrant email newsletter system. Subscribers receive monthly updates, exclusive sneak peeks into upcoming adventures, and curated content that fuels their wanderlust. The design emphasizes clarity and visual appeal to make each newsletter a joy to explore.
Release and Results
After rigorous internal testing, the first version of Lets Drift's online calendar & subscriptions platform was launched to the company's Instagram community. The results were highly promising, with notable outcomes:
Reduction in the time spent manually reconciling collected payments to customers and picked activities, leading to a decrease in operational costs.
A 27% increase in drift subscribers due to an easy signup & payment process, enhancing revenue estimation accuracy and minimizing potential losses.
While the initial release was deemed successful, areas for improvement were identified, including:
Icreasing the accepted methods of automatic payments to customers using payment methods other than MPesa and bank cards.
Providing enhanced analytics to internal planning teams for optimizing operations related to activity planning and staffing.
The success of this feature marked a significant milestone for Lets Drift in streamlining operations and enhancing the overall experience for Drifters. Future iterations aim to address identified areas for improvement and further elevate the efficiency and user satisfaction of the adventure calendar platform.